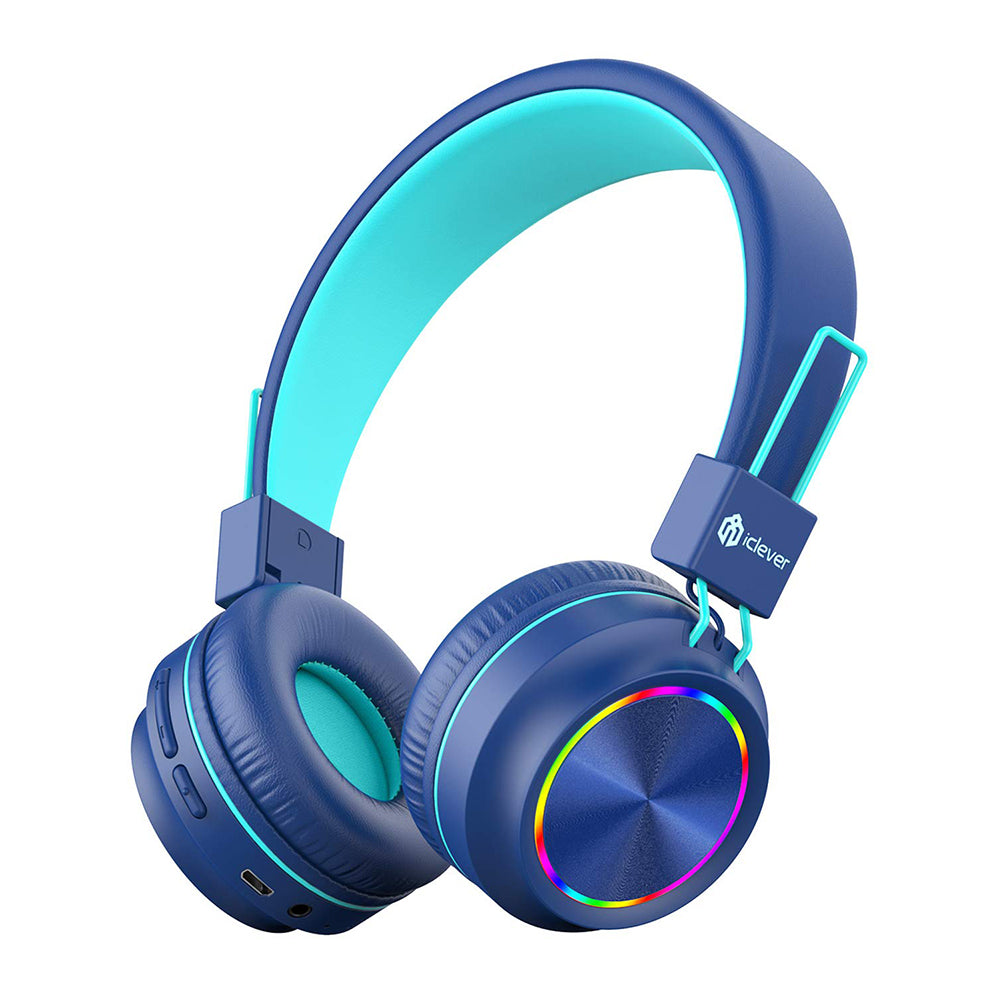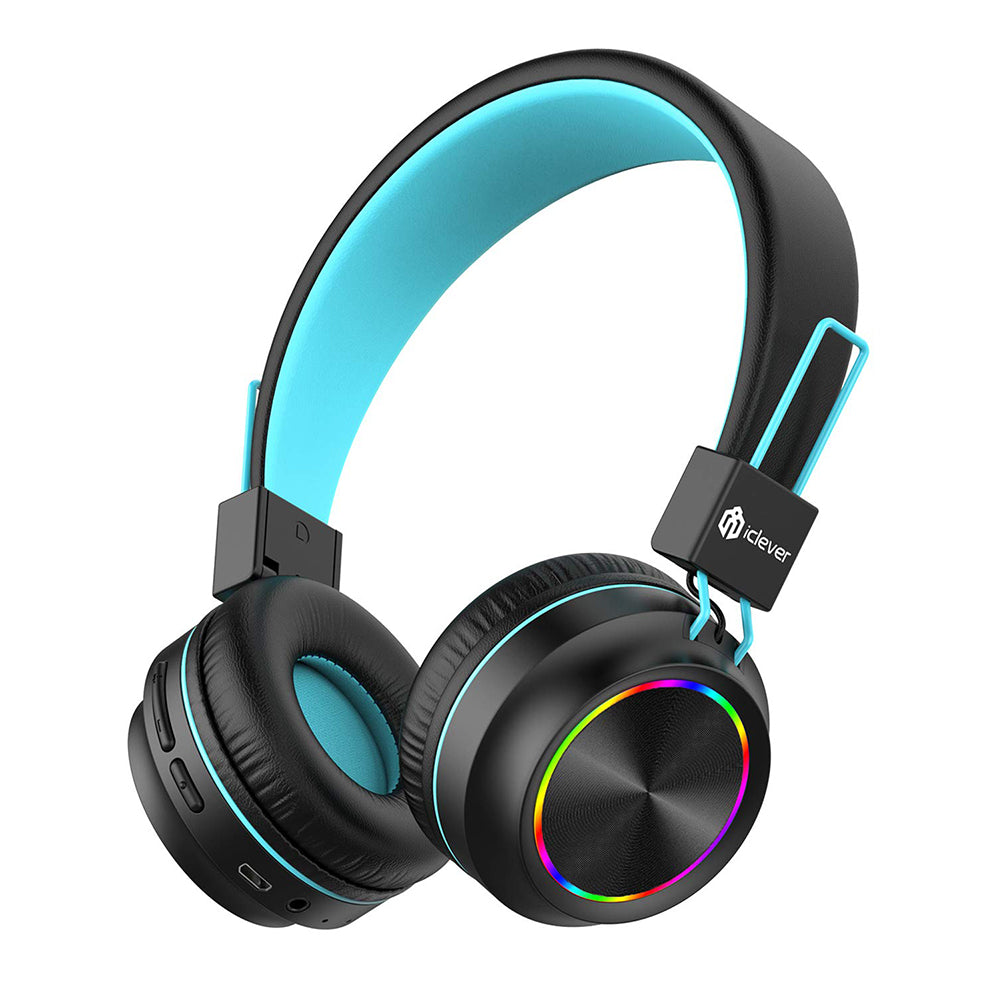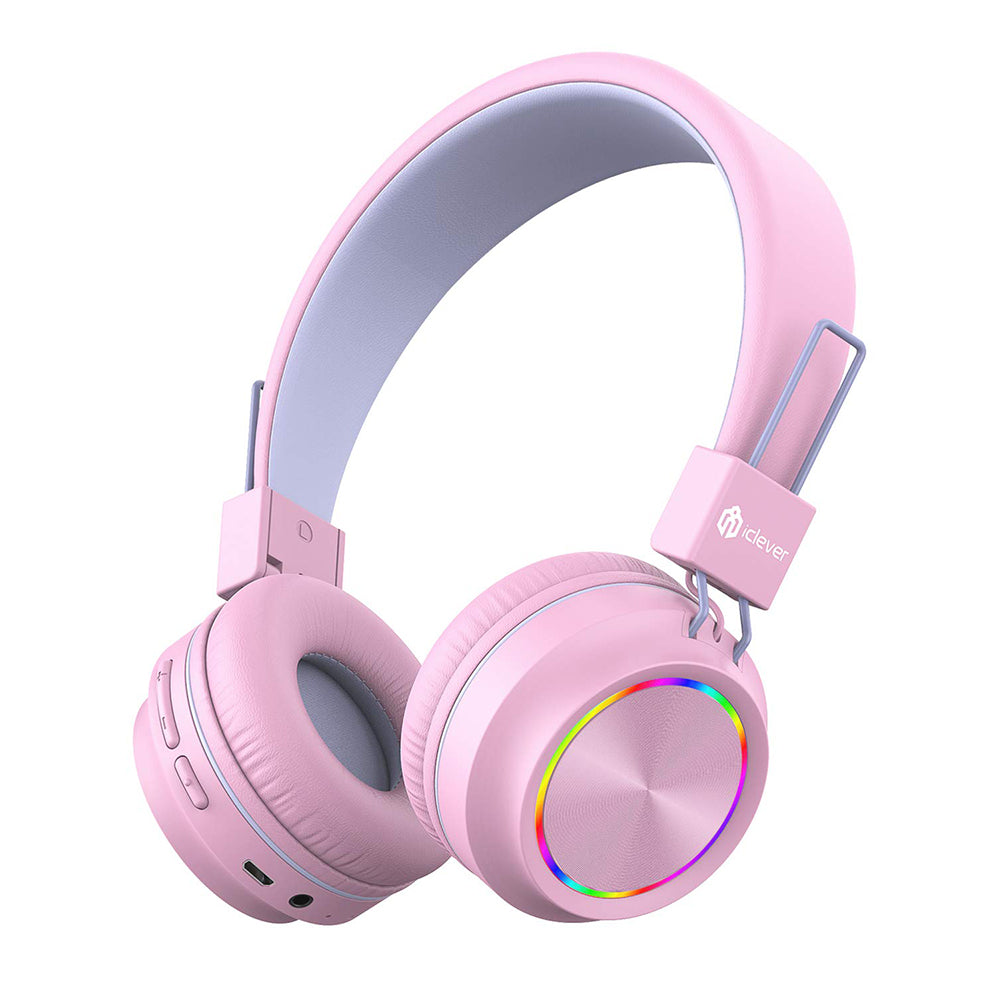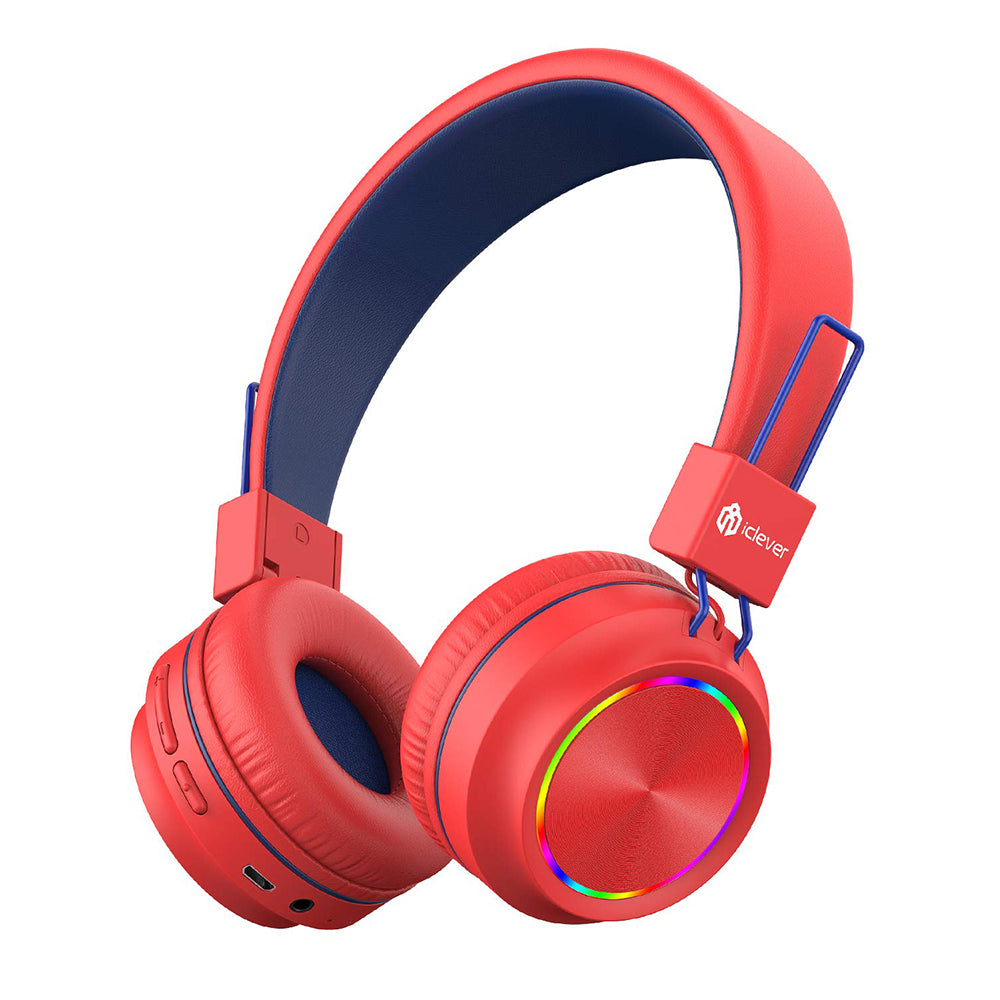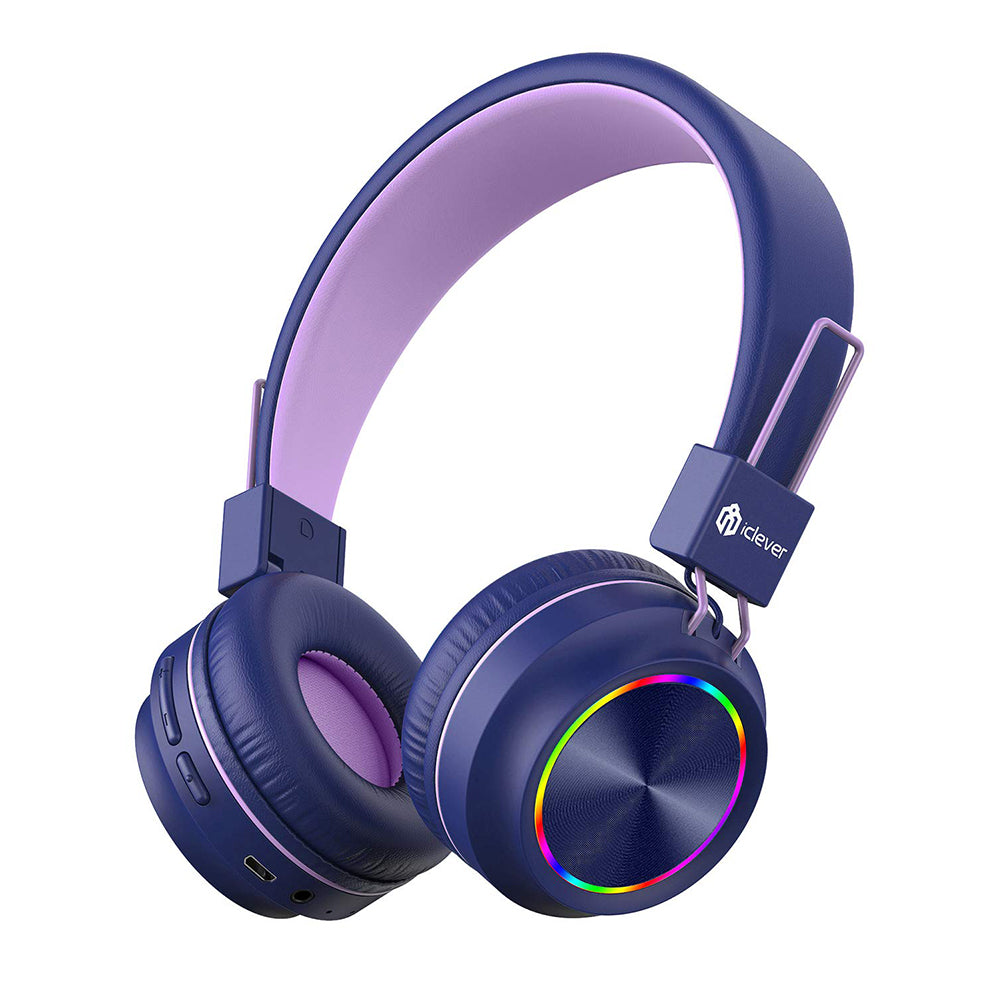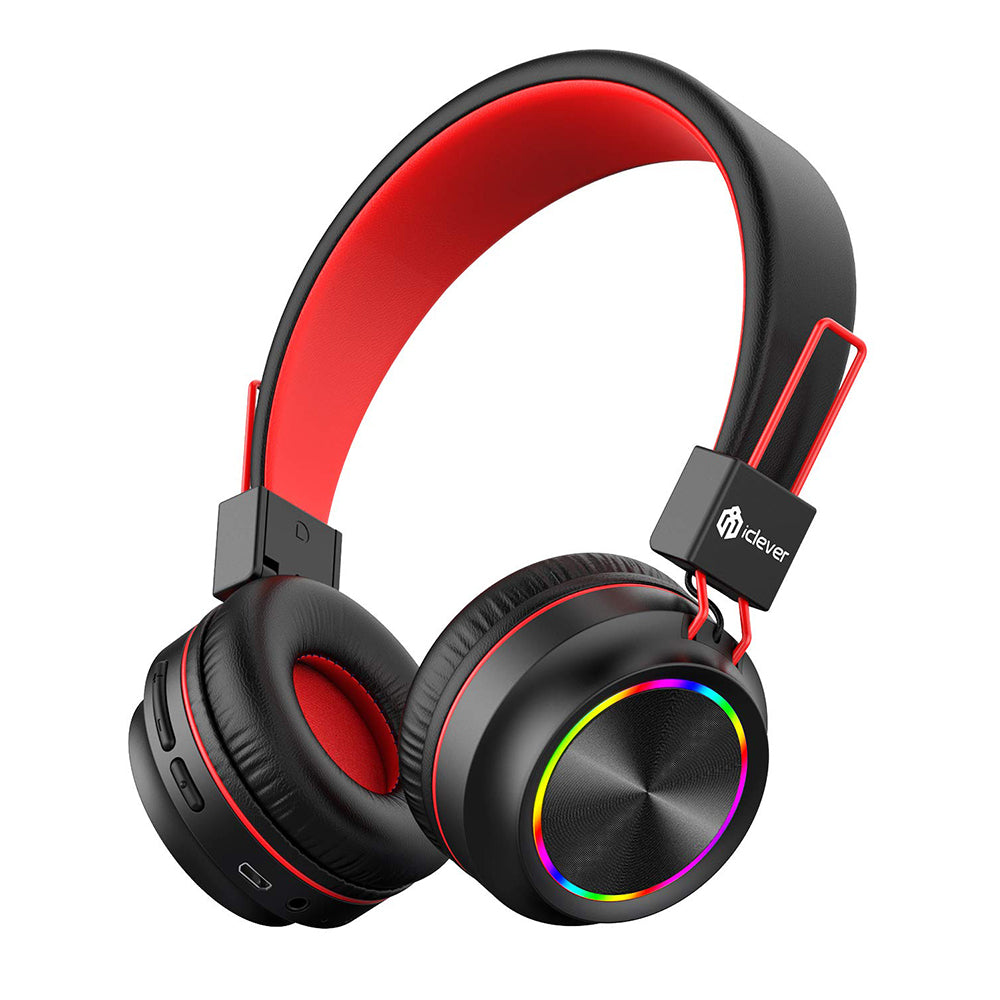 iClever Kids Bluetooth Headphones BTH03
94dB Volume Limited Hearing Protection
Built-in Microphone
Colorful RGB LED Lights
25 Hours Playtime
Both Wireless and Wired Mode
Bluetooth 5.0 Connectivity
Foldable Lightweight
Adjustable Headband
Pillow-soft Earmuffs
Premium Stereo Sound
Hands-Free Calls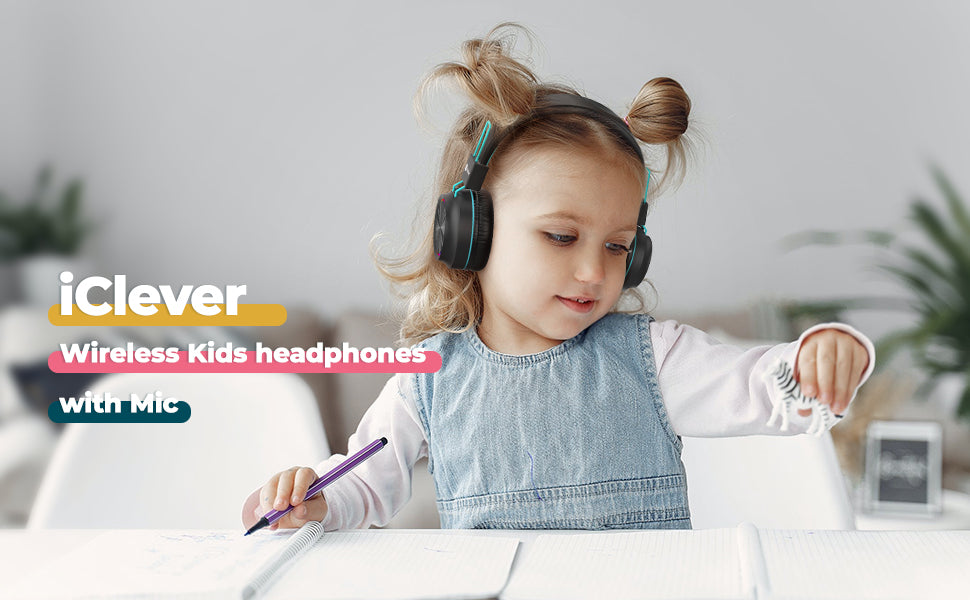 Ear-Saving Volume Limiter
To protect your child's sensitive ears, the kids volume-limiting headphones will not play music louder than 94 dB, but still provide a fantastic, all-around stereo sound to immerse you in your music, games, and movies.
Hands-Free Calls Online
If your child is getting one-on-one online tutoring, this pair of headphones will enable them to stay fully focused while talking using the built-in mic and phone call capabilities. The kids headphones with microphone intelligently free up your kids' hands to do their work and simultaneously keeps them off their phone while working.
Happy Ears, Happy Listening
Headphones with less padding can be uncomfortable to wear after a while, but the iClever headphones for kids are meant for the heads of children and are outfitted for ultimate ear bliss. These smaller-sized headphones are even great for teens or adults with smaller head sizes.
Lights and Music
Who doesn't love bright, colorful lights on your headphones, no less! This fun lights and music combo will put a smile on the face of any kid wearing the iClever kid headphones, which have a power switch to turn the lights on and off as they see fit.
Bluetooth 5.0 Connectivity
Wander freely with Bluetooth 5.0 technology and see where the music will take you! Or feel free to do things around the house while you're on the call - the choice is yours!
Wireless & Wired Modes
It's always better to have options, which is why you can either talk and listen continuously for 20 hrs on one charge, or if you're staying put, just plug-in using the Aux jack to charge and get an uninterrupted signal simultaneously.
Kid-Proof Material
We all know kids can be tough on their belongings, which is why we designed the iClever youth headphones to be capable of withstanding all sorts of abuse. No more broken headphones!
Pair and Go
When you're headed out the door and are ready to start listening, the iClever headphones for kids will pair almost instantly thanks to the Bluetooth 5.0 technology. No matter the device you're using, from phones, tablets and computers, as long as it has Bluetooth, these headphones can connect no problem!
Enhancing the joy of listening
Give your child the gift of sound on your drive to school or on their walk home with the iClever children's headphones, which feature an impressive sound quality and shortcut buttons on the headphones. Control power, volume, and answer calls, all without reaching for you phone!
Comfortable, Foldable, Durable
Sometimes you really have to cram things into your bag, but you won't have to worry about damaging these guys! Made with a flexible and foldable headband that adjusts to many sizes of head, the iClever foldable kids headphones will keep your head comfy all day with the synthetic protein ear cushions for enjoyable listening for hours on end.
The Ultimate Portable Travel Accessory
Ready for adventure? If your child likes to focus during schoolwork or lose themselves in music in the backseat of the car, the iClever child headphones are sure to bring them a new level of focus and joy wherever they take them.
All Day Listening
No matter how long your journey, study session, or other activities, the rechargeable battery on these headphones will keep you jamming for up to 25 hours at a time! If you're almost out of battery, the intelligent quick charge can get you going before you can say "music". You can also plug in the audio cable to use these children's headphones like you would a normal pair of headphones for uninterrupted listening.
An Indispensable Tool for Listening Enjoyment
If your kid is passionate about listening requirement during daily commuting, iClever headphones with great audio reproduction will be the best option to listen to songs like they were intended to.