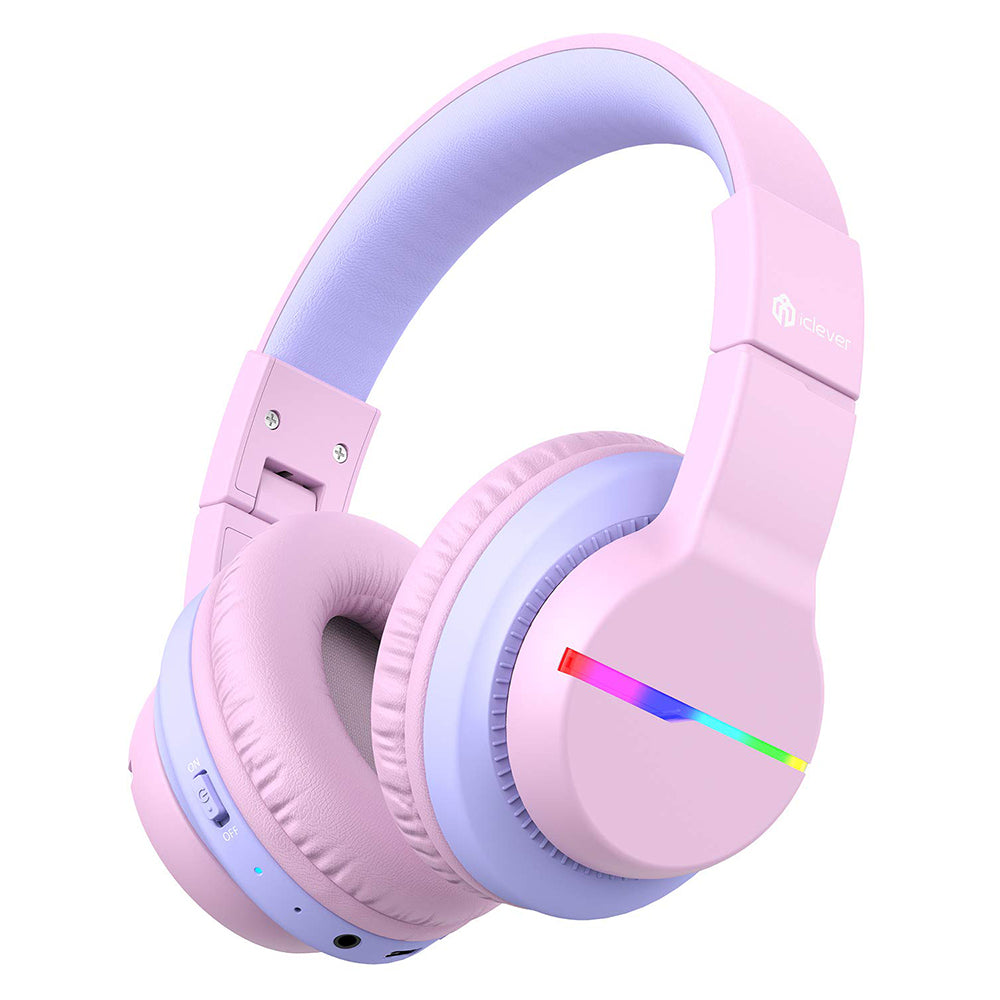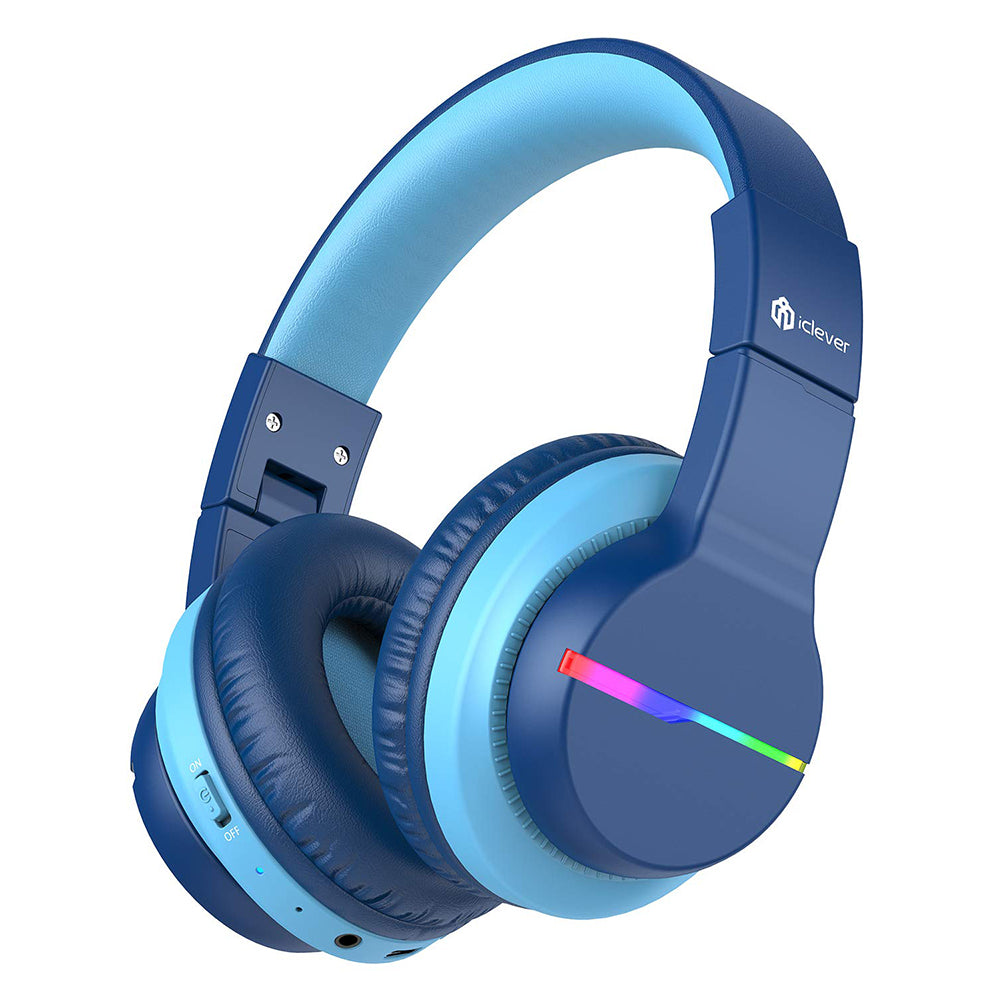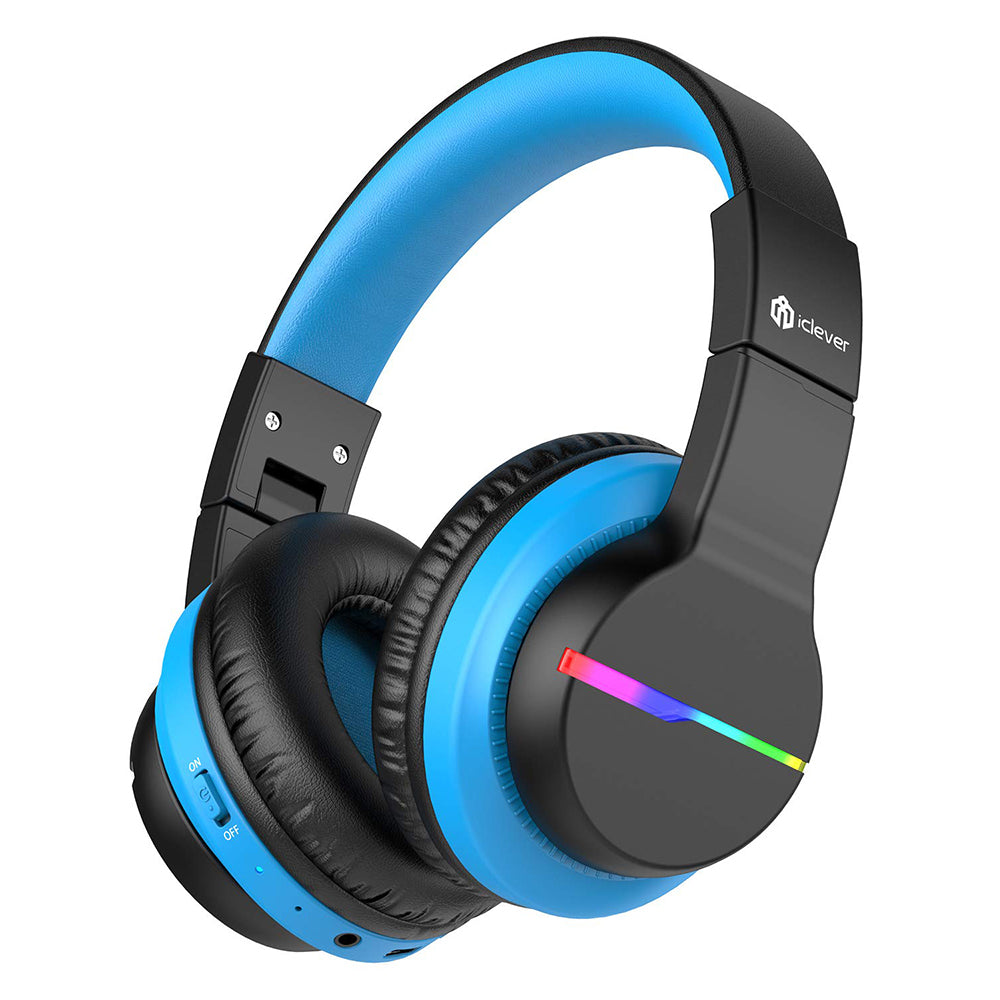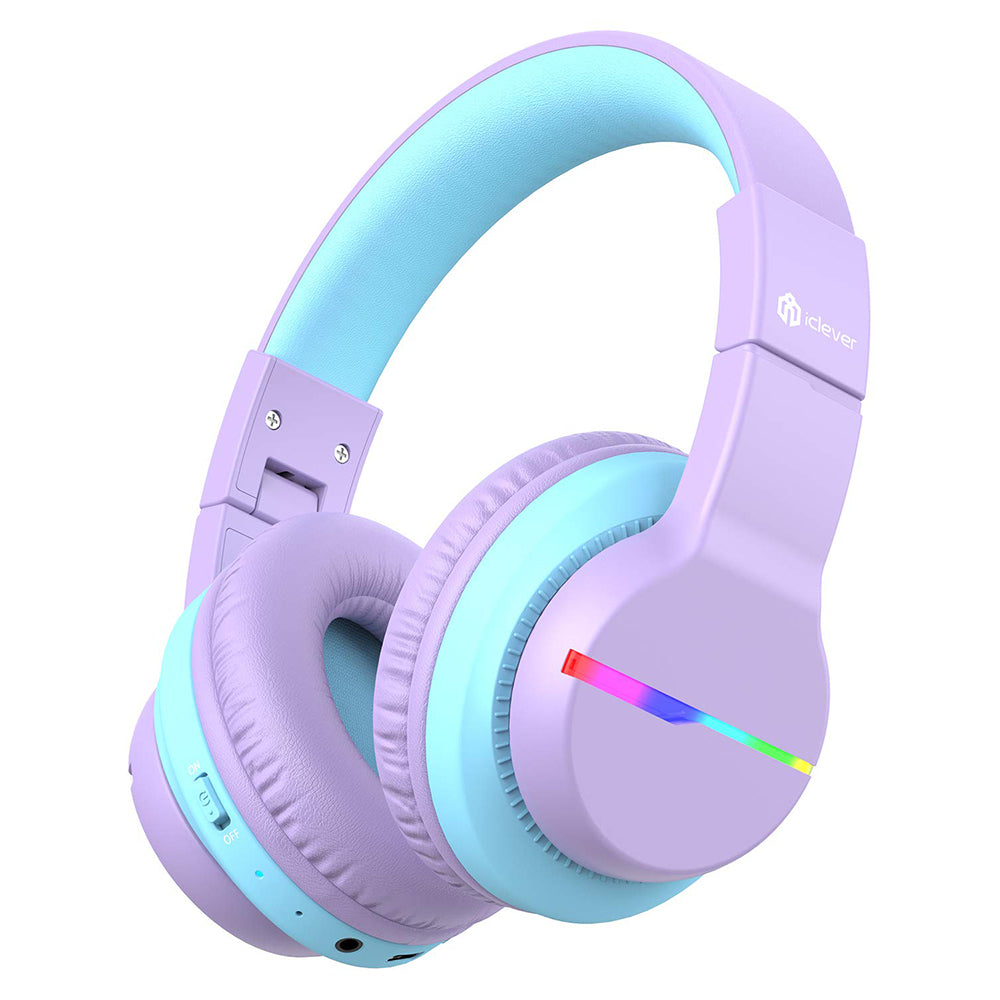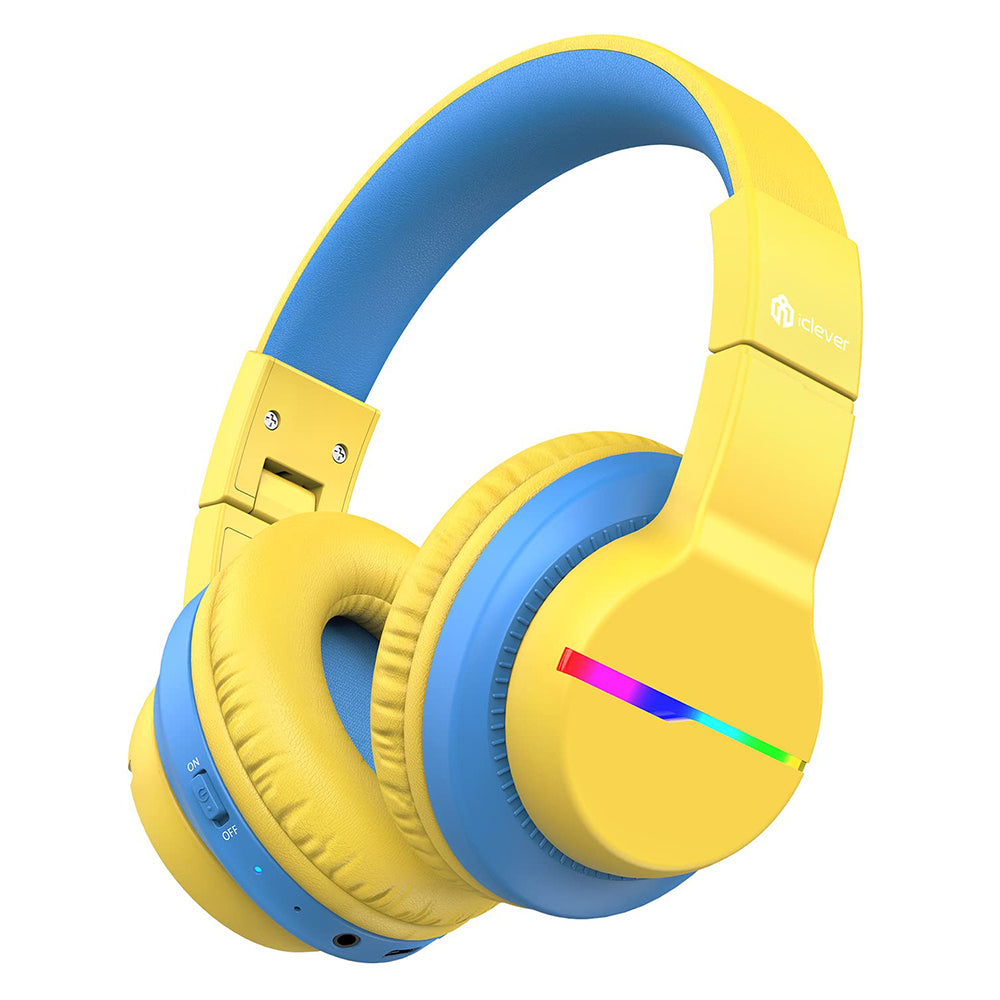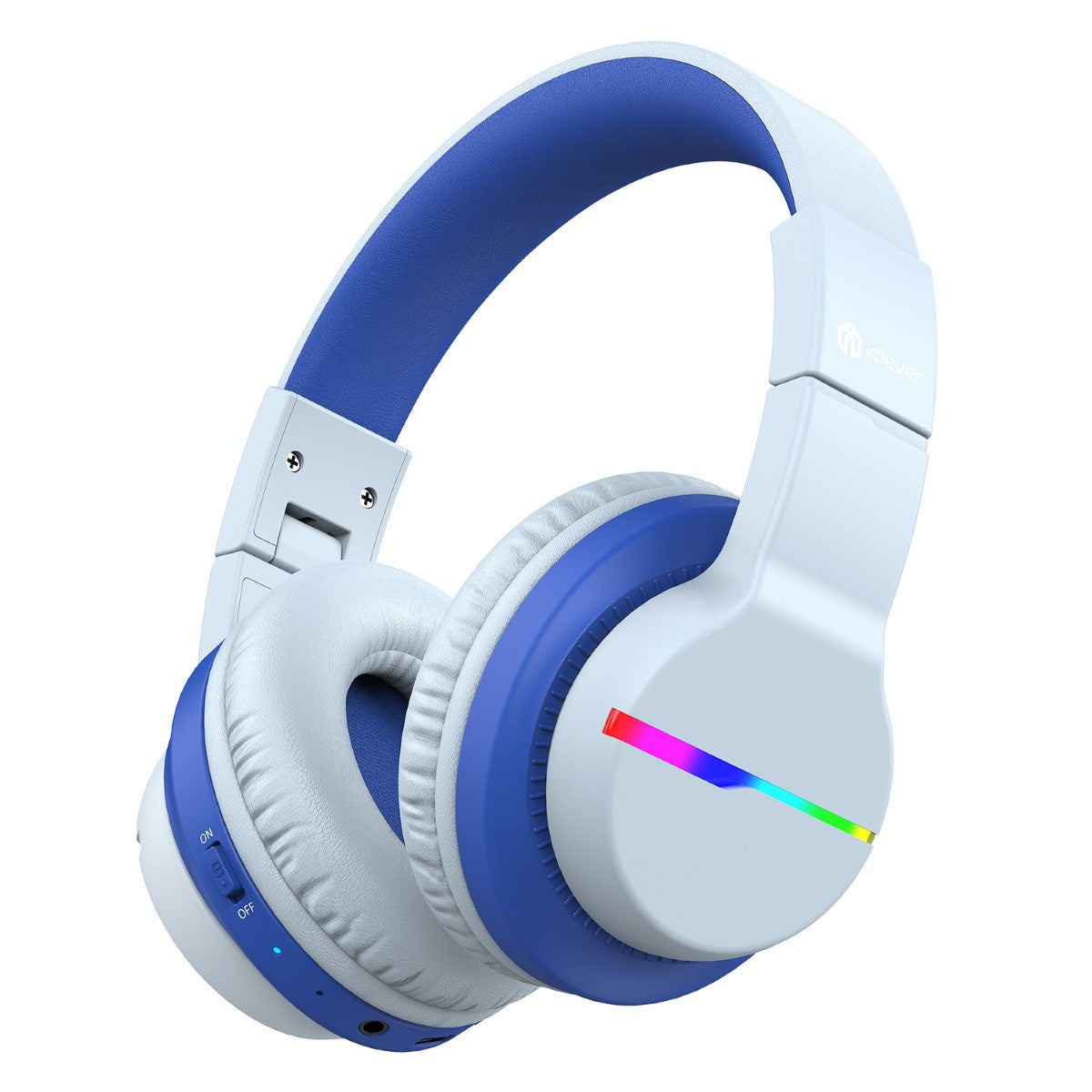 iClever Kids Bluetooth Headphones BTH12
74/85/94dB Volume Limited Hearing Protection
Built-in Microphone
Over-Ear Design
Colorful RGB LED Lights
40 Hours Playtime
Both Wireless and Wired Mode
USB C Fast Charging
Bluetooth 5.0 Connectivity
Foldable Lightweight
Adjustable Headband
Pillow-soft Earmuffs
Premium Stereo Sound
Hands-Free Calls
Stereo Sound & 74/85/94dB Volume Limiting
Kids need good sound too--they'll love the built-in 40mm speaker unit, which provides rich bass and lifelike audio. Limit audio volume between 74, 85 and 94dB using
Super Fast Charging
USB-C cord for incredibly fast charging. Just 10 minutes gives you 4 hours of playtime! Use with AUX or wireless for ultimate versatility!
Bluetooth 5.0 & Built-In Microphone
Enjoy Bluetooth 5.0 technology with the iClever wireless headphones for a super-stable connection. One button controls play, pause and end and answer phone calls. The built-in microphone on these kids bluetooth headphones gives hands-free freedom for studying, homework, being in class or playtime.
4 Colorful Lighting Modes
Not only do these kids headphones give great audio, but they also have the added feature of coming with LED lights that have multiple effects, light modes and colors on both sides of the headset. Four light modes are controlled by one independent button, which, when pressed in bluetooth mode, will turns off the lights for battery savings.
Designed for Kids
※Share Function
※Colorful LED Lights
※Three Limit Volume Options - 74/85/94dB
※40H Playtime & Wired Mode
※USB C Fast Charging
※Bluetooth 5.0 Connectivity
※Hands-Free Calls Online
※Foldable Design

Caring for Kids Hearing
Depending on the setting they're in and the volume levels of the environment, we created 3 different volume settings for your child, from normal mode (74dB), to learning mode (85dB) and travel mode (94dB). One setting for every situation!
Never Stop Playing
It's practically nonstop music! Providing up to 40 hours of in-ear jams, the long-lasting battery also has an intelligent quick-charge function which will get you up and running in no time (10 minutes charge to get 4 hours play time). You can also use the included 3.5mm cable for traditional wired listening with infinite playtime.
The full set of buttons include
There's nothing like an easy "ON" switch! Just switch the button and the LED indicator will flash blue for a second, after which the colorful lights will turn on. It's a great way to start things off!
Toggle volume limit operation
For parents, it's as easy as holding the "+" and "-" buttons at the same time to switch between the three volume limit modes: normal mode(74dB), learning mode(85dB) and travel mode(94dB).
Wireless & Wired Modes
It's always better to have options, which is why you can either talk and listen continuously for 40 hrs on one charge, or if you're staying put, just plug-in using the Aux jack to charge and get an uninterrupted signal simultaneously.
A Useful Tool for Learning and Listening to Music
In the car on the way to school, running errands, or on the go, the iClever children's headphones are the perfect companion for your kids anyplace they go. Control the quality audio with the shortcut buttons on the headphones. Press for power, volume control, and MIC. No need to reach for the phone!

The Ultimate Portable Travel Accessory
Planes, trains, cars and other places can be noisy. How can you drown out the unwanted sounds? Just use the iClever Kids wireless bluetooth headphones, which shield them from excess noise so they can learn or listen to music undisturbed.
Comfortable, Foldable, Durable
Adjustable Headband sliders and synthetic protein ear cushions allow for personalized fit, provides a welcome comfort on your ears for all day listening. We've designed iClever Bluetooth kids headphones for traveling with portability in mind - they'll fold up nice and small for easier transport. Durable headband outlasts yanks, drops, and years of use and abuse.