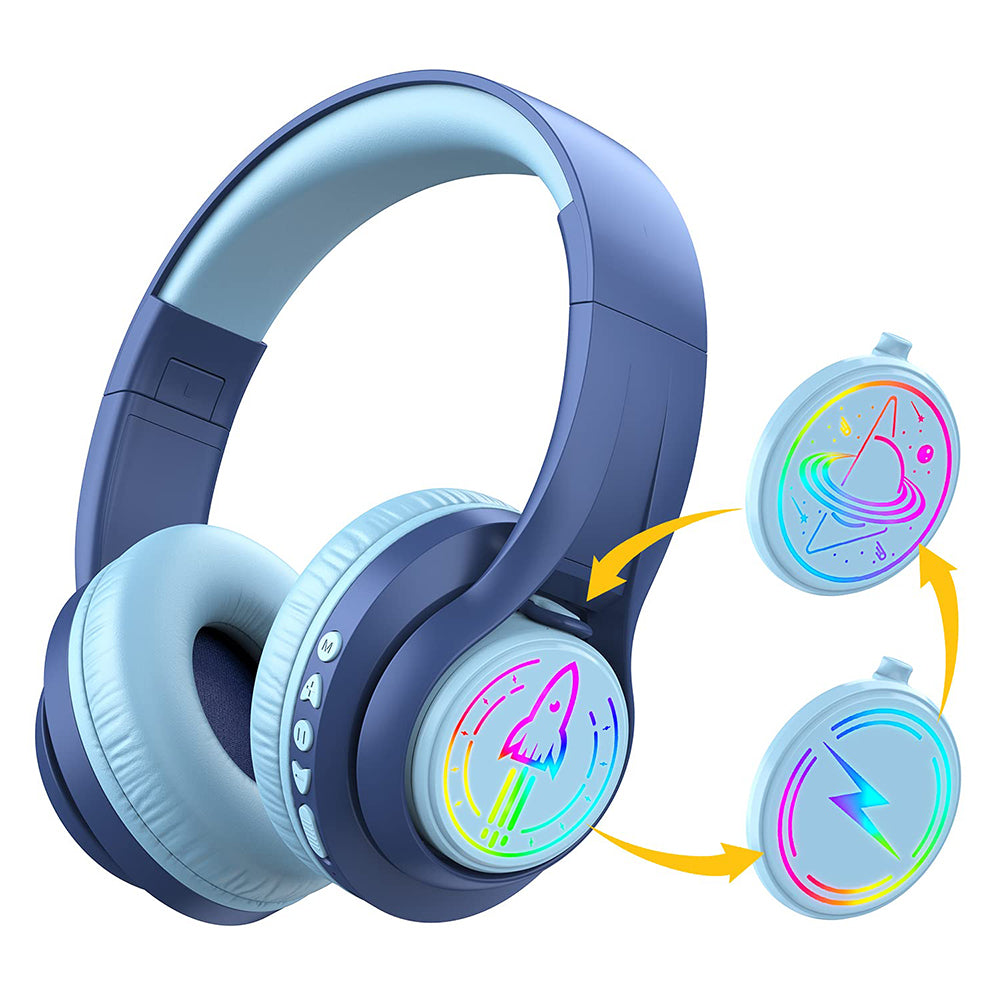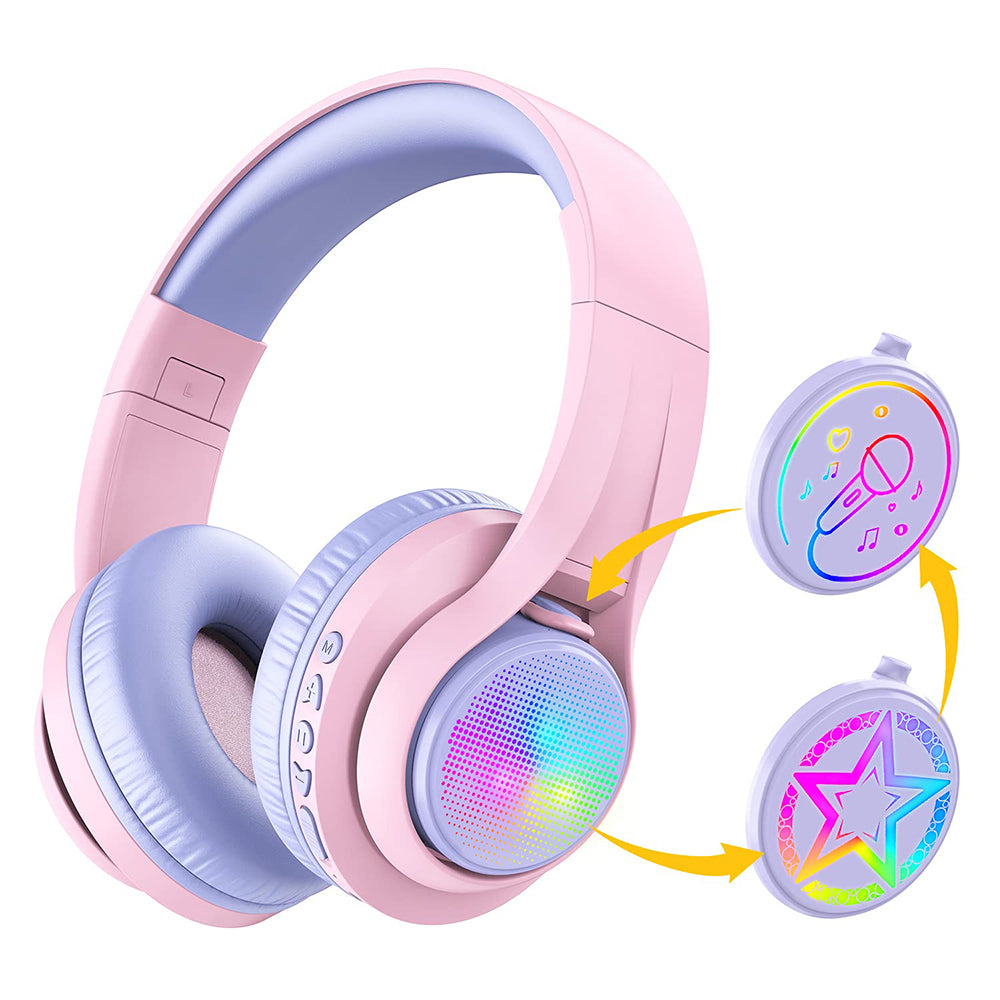 iClever TransNova Kids Bluetooth Headphones (US Exclusive)
74/85/94dB Volume Limited Hearing Protection
Built-in Microphone
Colorful RGB Lights
45 Hours Playtime
Both Wireless and Wired Mode
USB C Fast Charging
Bluetooth 5.0 (Bluetooth 5.2 after 2022)
Foldable Lightweight
Adjustable Headband
Pillow-soft Earmuffs
Premium Stereo Sound
Hands-Free Calls
Replaceable Headphone Plate
TransNova Kids Headphones
Why settle for headphones that look the same all the time when you can change the detachable plate on these iClever TransNova Kids Bluetooth Headphones? Replace with your favorite patterns for your customized look. ( Includes three plates with different patterns.)And the plates will be colorful when you turn the RGB on!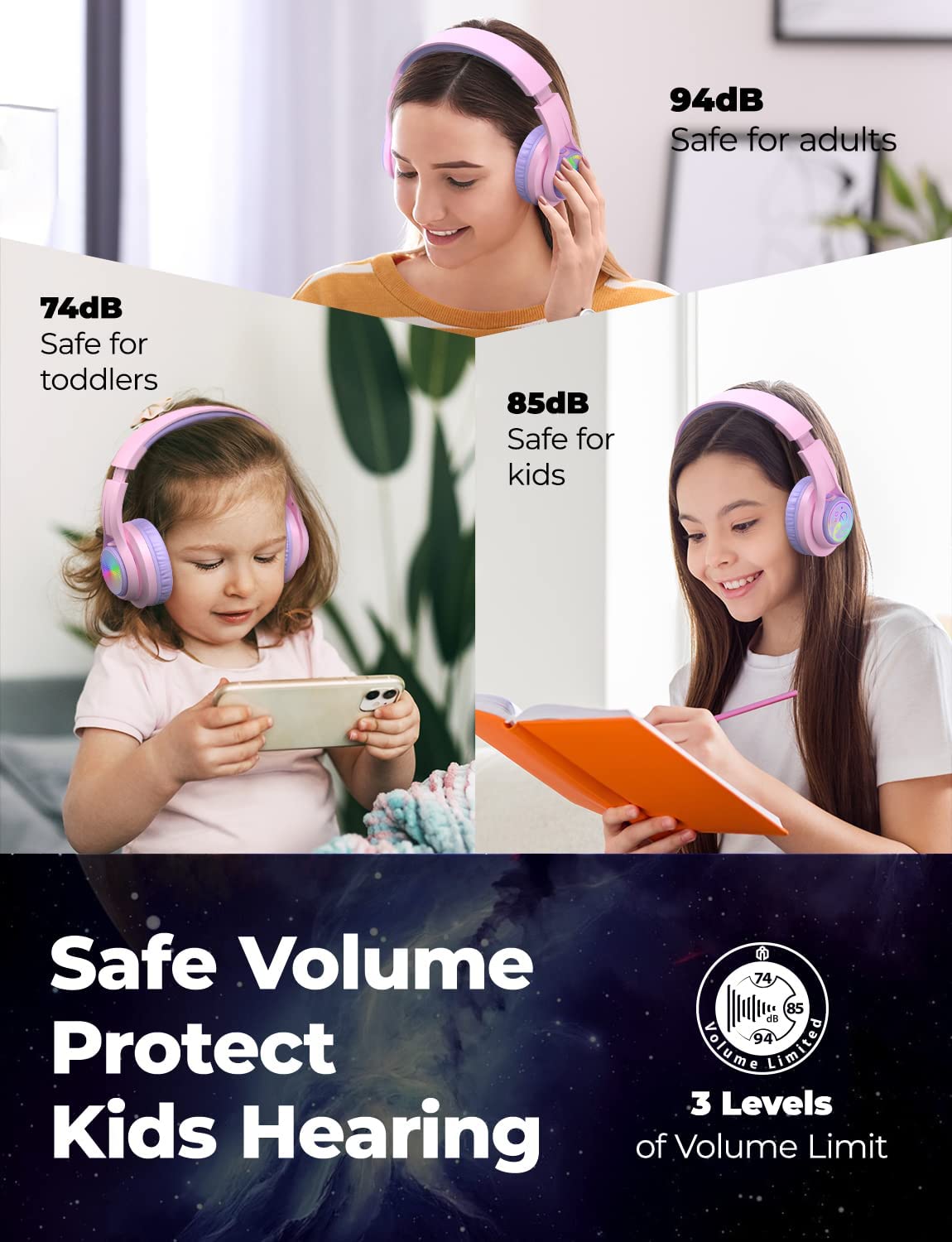 Safe Volume Control
Protect your child's hearing thanks to the volume limiter, which allows you to set the max volume to 74, 85, or 94 dB by pressing the keys in combination to avoid accidental touch. You can choose the volume you like according to the different occasions.
45Hrs Playtime and Wired Mode
The kids Bluetooth headphones provide an amazing 45 hours of playtime with a 500mAh battery. Our USB-C cord charges incredibly fast--just 10 minutes gives you 4 hours of playtime! If the battery is running low, you can also use a standard 3.5mm audio cable to switch to wired mode to keep using.
Stereo Sound & Mic
Kids need quality sound too. These wireless Bluetooth headphones for kids are outfitted with 40mm Neodymium drivers to ensure a fully balanced stereo sound when playing games and listening to music. Plus, the built-in microphone provides super-clear sound when calling.
Best Gift for Kids
Toys are nice but the iClever TransNova kids over-ear headphones are not only fun but an incredibly useful gift. They'll last a long time thanks to the sturdy build and portable EVA travel case. Plus, choose even more plates designs they can swap out to include in your gift to them!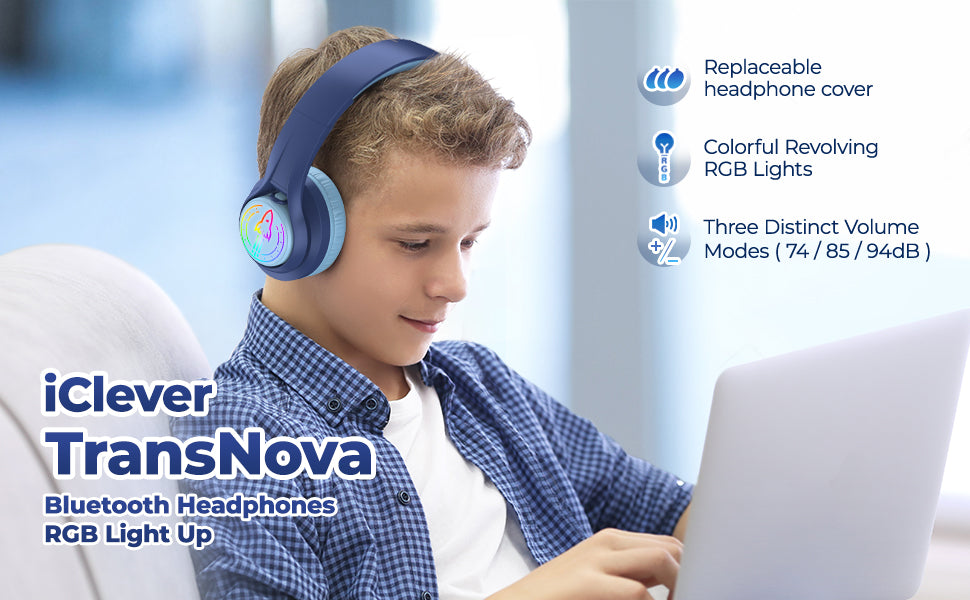 Revolving Effect
The mono-color plates will be alive and colorful with the built-in RGB lights
Hi-Fi Stereo Sound
Experience your audio in high-quality, the way it was meant to be heard. Thanks to large-aperture 40mm drivers, the iClever wireless headphones deliver stereo sound with an accurate bass response and crisp, clear audio for listening to a podcast, watching a show, etc. Your teens will love it!
Perfect for Traveling
If you're on-the-go then take the TransNova headphone with you! With a foldable, compact design, they fit tightly into the portable EVA travel bag, which protects the headphones while you travel. You can even bring the extra headphone plates in the case, too!
Customized Look
Swap the headphone plates to change the look, while the different lighting will change the look even more! The choice is yours to create your very own feel. More custom plate choices are coming soon!
Caring for Kids Hearing
To adjust the volume of the headphones based on the listening environment, you can press "+" and "-" buttons simultaneously to switch between normal mode (74dB), learning mode (85dB) and travel mode (94dB).